December 30, 2004
Kubby and Tuck Allowed to Appeal Denial of Refugee Status.
"It is important to note that the court only agrees to hear appeals of refugee board decisions in less than one percent of cases."
Posted by Richard Cowan on 2004-12-30 16:20:00
Source: http://marijuananews.com/
Canadian Law Enforcement Violates The Law With Multiple Attacks On Tuck. Hayes Simply "Takes Leave."
On one raid this summer, Steve Tuck was forced to lie face down in a mud puddle for several hours while the narks held an M-16 against his head. If DEAland narks will go to such lengths to violate their rights here in Canada, how can it be safe for them to return to the belly of the beast?
---
November 30, 2004
R.I.P. Pierre Burton
Pierre Burton, 84, the award-winning author of 50 books, recently revealed he used cannabis since the 1960s, and told the world he has reached a stage in his life where he didn't "give a damn" what he said or what people thought.
Thank you for being a shining light on the hypocrisy of cannabis prohibition. Most Canadians want common sense to triumph over politics.
Part of Pierre Burton's legacy was Monday Report's Oct/04 Celebrity Tip: How to roll a joint
Damage control by the drug warriors: [ Police response ]
[ Read More... ]
---
November 26, 2004
CANADIANS WANT POT SMOKERS 'LEFT ALONE'
Poll Finds Only 8 Per Cent Support Criminal Penalties
A new poll for the advocacy group NORML Canada shows [ Read More... ]
NORML Canada looks at what Canadians want, a much more original approach!
---
November 25, 2004
POT USE DOUBLED IN DECADE, STUDY SAYS
14% Smoked Up in the Past Year / Drug Laws a Minor Factor: Researchers
The number of Canadians who say they have used cannabis in the past year has doubled in a decade, according to a major new survey. [ Read More... ]
July 22 headlines: The proportion of Canadians who admit to indulging in marijuana or hashish almost doubled over 13 years - and the highest rates of use were among teens, a report released Wednesday by Statistics Canada suggests.
So just four months ago there was the same fanfare, Pot Use Doubles, Other Drug Use Up Too (Also see CannabisLink.ca Current Affairs July 22, 2004)

Will this be part of the debate that just goes around in circles too? Let's see what the March 2005 version brings.
---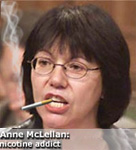 November 3, 2004
Former Health Minister says pot smokers "stupid"
OTTAWA -- Public Safety Minister Anne McLellan said Tuesday the government is committed to eradicating marijuana grow operations, and that people who smoke pot are "stupid."
---
November 2, 2004
---
November 1, 2004
Liberals reintroduce marijuana bill
OTTAWA (CP) - The federal government has reintroduced a bill to decriminalize possession of small amounts of marijuana.
The Liberals also introduced companion legislation Monday to crack down on drug-impaired driving. That legislation is meant to answer criticism that decriminalizing pot would lead to more people driving stoned.
The new bill would mean that anyone caught with under 15 grams of pot would face a fine rather than a criminal charge. It's the same as legislation that died when the June election was called.
It's not clear when Parliament will vote on the bills.
For information on C-17 (new bill), it's status, text, speeches, see [ Library of Parliament ]
For information on C-16, the drug-impaired driving bill, see [ Library of Parliament ]
For information on C-38 (old bill), it's status, text, speeches, see [ Library of Parliament ]
---
October 25, 2004
Released: United States-Canada Border Drug Threat Assessment
"Most marijuana trafficking activity is southbound, although it is smuggled in both directions across the border. While Canadian-produced marijuana accounts for only approximately 2% of overall U.S. marijuana seizures at its borders, the two governments are very concerned about an upward trend in seizures, which have increased 259% since 2001." (at page 3)
* The Government of Canada and the Government of the United States jointly prepared this document with contributions from several departments and agencies on both sides of the border.
NOTE: Various US agencies have for several years been claiming that Canada is a major exporter of cannabis. Yet this report says that, despite a 259% increase in seizures of cannabis entering the US from Canada since 2001, Canadian produced marijuana still accounts for only about 2% of overall US border seizures. That means that, if these figures are accurate, less than 1% of the cannabis seized in 2001 at US borders came from Canada. On that basis, how can these US agencies continue to claim that Canada is a major exporter of cannabis to the US? -- Eugene Oscapella, Canadian Foundation for Drug Policy, October 2004
---
October 15, 2004
Canadian icon, Pierre Burton, 84, demonstrates how to roll a joint on national television on Rick Mercer's Monday Report which airs on CBC Monday, October 18 on at 9 pm EDT.
[See video clip of police response...]
---
October 14, 2004
Liberal's intend to re-introduce pot bill
Legislation Would Decriminalize Pot And Allow Cops To Test Whether Drivers Are Stoned
The federal government is poised to reintroduce controversial legislation to decriminalize marijuana and will accompanying it with a bill giving police the power to force drivers to take a test to prove whether they are driving while stoned.
---
August 19, 2004
Cannabis activist jailed for 3 months
for passing a joint
An unprecedented move by a Saskatchewan judge best defines an unjust law
... what Mr. Emery did had nothing to do with "trafficking," any more than offering a friend a sip of beer amounts to selling alcohol without a license. For him to spend several months behind bars, tying up space and resources that could be reserved for real criminals, is an affront to Saskatchewan taxpayers.
[ Read more...]
[ Read more...]
---
July 23, 2004
Supreme Court Says Cops Cannot Fish for Evidence
Police with reasonable suspicions have the power to detain people temporarily but can't go on "fishing expeditions" in their pockets for evidence, the Supreme Court of Canada ruled Friday.

[ Read more... ]

[Supreme Court Ruling...]
---
July 22, 2004
Pot, Hash Use Up Almost 100% In Canada From 1989 To 2002
The Statistics Canada findings show marijuana and hashish use almost doubled from 1989 to 2002 across the nation, and is most common in B.C., where 16 per cent of respondents said they've used marijuana in the past year, compared with 12 per cent in 1994. The national rate in 2002 was 12 per cent. [ Read more... ]

Or are more people willing to admit to being "criminals"?

In countries such as Canada, where cannabis use is becoming less stigmatized, could it be that people are more willing to admit they indulge?

[ Canadians Soundoff ... ]

---
July 20, 2004
MEXICO TOP POT IMPORTER TO U.S.
While the amount of pot detected moving south from Canada has increased steadily since 2000, to almost 15,700 kilograms last year, it was dwarfed by the 406,000 kilograms of Mexican marijuana seized at the U.S. border in 2003. In addition, American authorities continue to report that their primary source of marijuana remains the U.S., the RCMP report says.

[ Read more... ]
---
June 29, 2004
135 Liberal, 99 Conservatives, 19 New Democrats, 54 Bloc Québécois and one Non-Affiliated
What does a Liberal minority government mean to cannabis policy?
In a nutshell, the June 28, 2004 election means the fence-sitting Liberal cannabis decrim bill that died when the election was called will not be revived without noticeable changes for the better or worse.
If another cannabis reform bill is introduced this session, the minority government will either have to concede the harshest measures, ante up the personal possession maximum of 15 grams to something much more reasonable, and address issues of personal cultivation - or - increase punishments and enforcement, to gain a coalition of support from either the pro-reform New Democratic Party / Bloc Quebecois, or the more-punitive Conservatives.
There are many news sources available that give in-depth analysis of the election results, but based on the leanings, party platform and histories of the elected parties, the chances for real cannabis (and hopefully all drug) reform may be more favourable today than they were yesterday.
History tells us some of Canada's most progressive legislation mainly happened during times of minority governments and is most likely the best democracy we ever encounter, perhaps because sessions typically last for 18 months to two years at most, then time to answer to the real stakeholders again, which weighs heavily on all their minds.
Traditionally, the Liberals woo the NDP and Bloc on matters of social policy, especially in the face of the significant number of Canadians who thought twice about supporting the Conservatives in any tangible way. (Thanks Michael Moore and Ralph Nader - it's nice to hear from someone in the US besides John Walters for once).
In a sense, this is the most opportune time in Canadian politics for cannabis policy reform to move a giant step forward. The Supreme Court abandoned cannabis consumers to the mercy of politicians. It is now time to show this new crop of disempowered politicians no mercy if they attempt to avoid this "hot potatoe" issue entirely.
If Canadians see some great things happen while this government holds together, perhaps we should keep it this way next time around too.
---
June 9, 2004
Legalize it, says Fraser Institute
Marijuana Growth in British Columbia
This paper raises several issues that have the cumulative effect of suggesting that in the long term, the prohibition of marijuana cannot be sustained with the present technology of production and enforcement. To anyone with even a passing acquaintance with modern history, it is apparent that we are reliving the experience of alcohol prohibition of the early years of the last century.
---
May 23, 2004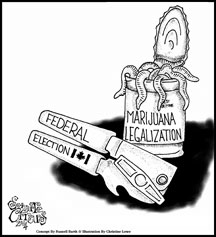 Election Time!
There will be a federal election on June 28, 2004. Two political parties support full legalization of cannabis, so now is the time to show the government the type of cannabis policy that would be best for Canadians. Get out and vote on June 28 for either:


---
May 22, 2004
Medical errors kill thousands annually: Study
LEGAL: Preventable medical errors contribute to between 9,250 and 23,750 deaths in Canada a year, a landmark study of what the medical community calls "adverse events" suggests.

ILLEGAL: Cannabis deaths to date: 0

WHAT'S WRONG WITH THIS PICTURE?

Canadian voters MUST make this an election issue. Deflate police budgets and pour the money spent fighting grow-ops and busting pot smokers into improving the HEALTH system immediately. Also so-called alternative health practices, such as Naturopaths, massage, TCM's, and medicinal herbs that are much safer, MUST be integrated into health insurance.

Help set the national election agenda by letting candidates know what we think about the state of the Canadian healthcare system, and what solutions are needed to improve it immediately.
---
May 8, 2004
The British Columbia Civil Liberties Association Presents A Multi-Disciplinary Approach to Law Reform:
Date of Conference: Saturday, May 8, 2004
Location: The Wosk Centre for Dialogue, Vancouver BC
---
Over 65 leading policy makers - MP's and bureaucrats who influence cannabis policy, were extended a special invitation to attend this significant one-day conference to become more enlightened about this herb, yet none replied or were in attendence.
---
March 8, 2004
Bill C-10 Third Reading
Bill C-10 is being debated for the third time, and is cycling through. It is expected to die on the order paper when an election is called.
---
Febuary 24, 2004
Bill C-10 Passes Second Reading
The vote on the 2nd reading of Bill C-10, (formerly Bill C-38, the Cannabis Reform Bill), occurred in Parliament today. Of the MP's present, 142 voted for the bill and 84 were opposed. The next (and final vote) takes place on March 8th, at which point it looks like the Bill will be approved.
Bill C-10 is a lose-lose proposition. If it passes it will be detrimental, and if it is defeated, it means we are under the current system, which no one is happy with.
Unless the Senate report recommendations are adopted, the repercussions and unintended consequences, such as the perpetual waste of public money on a "crime" that Canadians do not feel threatened by, despite police and media fear mongering, will be felt.
Polls show we prefer the police ignore the plants, and chase violent murderers, assailants, fraud artists and others that cause us suffering, yet they always blindly and willfully shut out anything that diminishes or restricts their actions over citizenry who engage in a popular, fairly safe activity. It shows where their hearts are really at - "To Serve and Protect" really means, "To Serve and Protect our own interests at any costs".
---
Febuary 12, 2004
Bill C-38 (now C-10) Reintroduced in Parliament
Following the lead of Britian, Canada moves to decriminalize small amounts of cannabis while doubling jail time for growers and distributors.
---
Febuary 12, 2004
RCMP Tells Officers Exemptees Can Medicate Where They Choose
Health Canada confirms that exemptees have the legal right to use their medical marihuana anywhere they choose.
---
January 28, 2004
CHARGES DROPPED AGAINST COMPASSION CLUB
Citizen groups that provide medicinal marijuana to the chronically-ill are rejoicing today amid news that Ottawa will not proceed with trafficking charges laid against two men operating a well-known Toronto care centre.
---
January 8, 2004
SURPRISE! NEW YEAR BEGINS WITH PROHIBITION-RELATED CORRUPTION
POLICE CORRUPTION

An American-style police corruption scandal exploded in Toronto yesterday after six former drug squad cops were arrested and charged with 40 criminal code offences.